The 3D-Varius STRATAVARIUS Style Electric Violin is the first and finest professional electric violin created on a 3D Printer. The French mechanical engineer and violinist Laurent Bernadac designed the violin from scratch using hand drawings and his engineering skills. Latter with the French CATIA CAD software program he fined tuned the design of the instrument. At First he was going to make electric violin out of aluminum but aluminum is a hard metal to transform. In 2013, the first prototype was born handcrafted by a stringed instrument maker in transparent polycarbonate. The violin was too heavy and hardly playable. Laurent brought his invention to life with one of those million dollar 3D Printers. I have seen a lot of gadgets made on 3D printers over the last several years, little dolls, necklaces, and soap holders. Here is a $7000.00 violin that can justify the expense of using these printers. Not just to make prototypes but for production. Laurent engineered from CAD to 3D printer production a superior electric violin with all the acoustical qualities, weight reduction, smoother sound-wave flow, and refined curves. All this to achieve his original goal which was…… as Laurent said "Was to create an electric violin in perfect symbiosis with the musician."
Listen to Laurent Bernadac play his masterpiece, at the 2017 National Association of Music Merchants, NAMM in Anaheim California. The current base sales price $7000.00. Please visit their website at 3d-varius.com.
The aesthetically pleasing violin comes with the following options, customized wooden bridge, standard Chrome plated or Gold Tuners, 49.00 extra. Made to measure customized size, $499.00 extra.
Engrave a personal message or give it a name. Payment Plans or Financing is available.
A little about CATIA, curtesy of Wikipedia. CATIA (an acronym of computer aided three-dimensional interactive application, pronounced /kəˈtiə/) is a multi-platform software suite for computer-aided design (CAD), computer-aided manufacturing (CAM), computer-aided engineering (CAE), PLM and 3D, developed by the French company Dassault Systèmes.
The following is taken from https://www.3d-varius.com/the-idea/
In 2015, listening to the advice of a friend, Géraldine Puel, who brought her talents to this project, Laurent finished his second prototype, fully created with 3D-printing technology, in a subcontractor workshop situated in South of France.
3Dvarius drawing
model electric violin

a href="https://macnewsweb.com/?attachment_id=487″ rel="attachment wp-att-487″>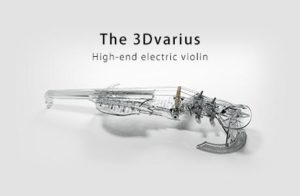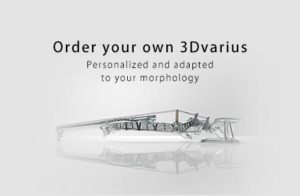 The 3Dvarius has been created with the sole purpose of becoming one with its future violinist:
Its weight distribution is optimized, not to hinder the musician's movements
The 3Dvarius is 3D printed in one single piece, all the sound signals travel freely in its body (no resonance loss in the joints)
It's made with professional 3D printing technology, that ensures proper resistance to the string's pressure
Based on a Stradivarius model, it can use any violin shoulder rests and so adapt itself to any morphology
It borrowed my tuning pegs from the best guitars to facilitate its tuning and limit its weight. The guitar tuning pegs aren't in the head to reduce the weight
The quality of its sound sensor is so good that the 3Dvarius doesn't use any preamp
Its jack cable is near to the bridge to avoid the radio disruptions and limit the signal travel time
The 3Dvarius is very light and the weight distribution is optimized to reduce the weight felt by the violinist.

Filed under: Musical Instrument, NAMM News