One of the options i was really waiting for and made me eager to buy the Google Nexus 7, second generation tablet was a rear facing camera. The iPad Mini and the Nexus both have a nice 5 mega pixel cameras for photos, and 1080p HD for video. Unfortunately in the back of my mind I still want my iMovie.
The Base Price of the Nexus 7 is more attractive.
Nexus 7 (16GB) $229.00 Price Tag
Powerful, portable and made for what matters to you.
Now thinner, lighter, and faster — Nexus 7 brings you the perfect mix of power and portability and features the world's sharpest 7" tablet screen.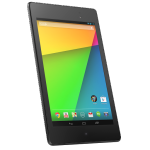 The sharpest 7" tablet screen ever.
The world's highest-resolution 7″ tablet puts over 2.3 million pixels in the palm of your hand. With 323 pixels packed into every inch, you can read text that's sharper than the printed page, see images more vivid than the highest quality photo magazine, and watch videos come to life in vibrant 1080p HD.
Sound that surrounds.
Nexus 7 features dual stereo speakers and surround sound powered by Fraunhofer ¹ (the MP3 inventors), so you get rich and immersive audio. Hear it all more clearly with finely tuned volume boost technology that makes dialog and sound crisp and easier on the ears.
Fast and smooth.
Nexus 7 is made by ASUS and packs a serious punch. With a quad-core Qualcomm Snapdragon™ S4 Pro processor and 2GB of RAM, everything runs faster, and high-performance rendering ensures 3D graphics are smooth and dynamic.
The iPad Mini's price is a little higher, although you can find it cheaper around
town, say for about $299.00.
iPad mini 16GB From $329
It's pencil thin and unbelievably light. And thanks to its beautiful 7.9-inch display, you can hold it in one hand.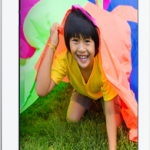 I bought the Nexus 1st generation when they arrived on the market several months before iPad Mini. The Google Nexus 7 ASUS tablet was ahead of its time, in size, speed, quality and coolness. Style and quality had always been Apple's.
The lack of the rear camera feature disappointed me. So now i have one and i am still
disappointed with the some of the application software.
Apple has always been The Cool Hip tech product to own. The loss of this status is shifting the gears to products like Samsung Galaxy & Goggle Nexus.
However as far as the Nexus is concerned I do not find the Jelly Bean software applications as stable and appetizing and nutritious as an Apple.
As much as I am trying to convenience myself that Android is the operating system of the
future, their software application products still do not have the stability, uniqueness and state of the art functionality of Apple's software.
iPad mini at a glance.
The full iPad experience
Everything you love about iPad — the beautiful screen, fast and fluid performance, FaceTime and iSight cameras, thousands of amazing apps, 10-hour battery life2 — is everything you'll love about iPad mini, too. And you can hold it in one hand.
Beautiful 7.9-inch display
Colors are vivid and text is sharp on the iPad mini display. But what really makes it stand out is its size. At 7.9 inches, it's perfectly sized to deliver an experience every bit as big as iPad.
Over 375,000 apps3
Right from the start, apps made for iPad also work with iPad mini. They're immersive, full-screen apps that let you do almost anything you can imagine. And they make iPad mini practically impossible to put down.
Ultrafast wireless
With advanced Wi-Fi that's up to twice as fast as any previous-generation iPad and access to fast cellular data networks around the world, iPad mini lets you download content, stream video, and browse the web at amazing speeds.
iOS 7.
With new features like AirDrop, Control Center, and smarter multitasking, iOS 7 makes the things you do every day even easier, faster, and more enjoyable.
What's in the box
iPad mini
Lightning to USB Cable
USB Power Adapter
Limited Warranty
Every iPad mini comes with complimentary telephone technical support for 90 days from your iPad mini purchase date and a one-year limited warranty.
I can not leave Apple's iOS for jellybean quite yet. I can not find the equivalent
to Apple's GarageBand in the Jellybean world, PocketBand is no comparison. The Apple
iWorks products are still more stable. I downloaded the free Kingston Office suite
for the Google tablet on the first day and my tablet crashed. Be careful what you
download from the Google Play Store that is "Free." I had the same problem with
screen record, crashed and lots of popup advertisements, I do not receive on Apple iOS
products.

Filed under: Apple Computer Hardware, Apple Software, Google Nexus 2nd Tablet