Troy Fernandez visited the Kanile'a Ukulele booth for a great session
of Ukulele playing. One of the best if not the best Ukulele manufactures
at this years 2014 NAMM show in Anaheim California.
Kanile'a Ukulele's are handmade in Kaneohe, Hawaii, the big island.
Kanile'a 'Ukulele is a family-owned and operated business. Joe and Kristen will be happy to assist you with any help you may need.
Their goal is to "Spread Aloha" all over the world through music.
Joe and Kristen are committed to offering excellent customer service,
with the knowledge to assist you in designing and building your personal instrument.
There are several convenient methods of contacting Joe and Kristen regarding questions or to place an order:
Office number: 1-808-234-2868
Fax number: 1-808-234-2868
info@kanileaukulele.com
Mailing address
46-216 Kahuhipa Street #3
Kaneohe, Hawaii 96744
Troy is a living legend in this field and it was a pleasure to meet him. Nice cameo of Aldrine Guerrero, he also plays the Kanile'a.
Joe's Grandma
Mary Ferreira Souza
October 23, 1905 to February 10, 2007
She was born in Portugal on the Island of Madeira. Mary moved to Maui, Hawaii at 6 months of age. The boat she sailed on had to come around the horn because the Panama Canal was not yet built. Later she moved to Oahu with her family and settled in Kalihi. She met and married Joseph N. Souza Sr. and together they lived in Kapahulu'u. Mary and Joe had one son, Joseph N. Souza II, Joe's father. Joe the 2nd has since passed but enjoyed his life as a Honolulu Police Officer and husband to Olive Rodrigues Souza. They have 8 children and Joe is the youngest.
Joe's Grandma, GiGi, loved him dearly and was always very proud of him. The 'ukulele was a very important part of her life and she treasured the fact that Joe followed his heritage. GiGi lived a full life of 102 years. We are thankful for her encouragement and love.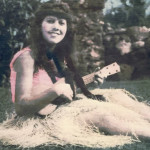 The 'Ukulele (pronounced "oo-koo-le-le") was introduced by Portuguese immigrants who migrated to Hawai'i. They were looking for new lives, but even more so, work.
The braguinha, or "machete de braga" as my ninety-five year old Portuguese Grandmother calls it, is still a hit on the island of Madiera in Portugal, where she is from. In late August of 1879, legend has it that the 'ukulele first arrived in Hawai'i. Upon arrival in Honolulu, a musician named Joao Fernandes strummed his braguinha while singing Portuguese folksongs.
On one of the many ships that arrived in Honolulu Harbor from Portugal, there were three men: Augusto Dias, Jose do Espirito Santo and Manuel Nunes. All three were excellent craftsmen and they are credited with making the first true 'Ukuleles.
King David Kalakaua can be attributed not only with the "Merrie Monarch", our annual hula competition, but also the popularity boom of the 'ukulele. King Kalakaua was an excellent composer and he loved playing his 'ukulele. So, of course, he made playing the 'ukulele very fashionable. The 'ukulele grew in popularity. Prior to the 'ukulele, Hawaiians relied mainly on percussion implements to accompany their hula and chant. Now, they had found a perfect way to accompany themselves melodically.
Today, as you well know, the 'ukulele or uke is famous the world over. There are many well-known names that are associated with the 'ukulele. Here in Hawai'i the 'ukulele has had a major resurgence. It is not uncommon to see children playing their ukes at the beach, or at "The Bus" stop. The majority of accomplished musical groups in Hawai'i have at least one or two 'ukulele players. Even in Japan the 'ukulele has gained in popularity by leaps and bounds.
It gives me great honor to perpetuate both my Portuguese and Hawaiian ancestry, with this true woodworking piece of art, the 'Ukulele!
I stole this from Joe Souza's website but i had to include it here. I am saving money up for one of his ukuleles. Joe, My Grandma was from Galicia Spain, where they still speak old Portuguese.
Mahalo
Art Fernandez
Filed under: NAMM Performances, Ukuleles