Your SMARTPHONE or Wifi enabled tablet can now remotely control your Tascam Portable recorder via Wifi. Any of the TASCAM recording controls can be controlled over Wi-Fi. According to Robbie Blanco Wi-Fi transmission range is about 50 t0 60 feet. The Wi-fi is embeded in the recorder so there is no need for routers. This is beyond the reach of infrared remotes. The recorder can be placed wherever the recording sounds best. Audio can also be streamed over Wi-Fi to check the recording. Plug headphones into your smartphone and listen to a near-realtime feed from the remote recorder.
Today WiFi is in most modern cameras. Now Tascam has brought WiFi to portable audio recorders, enabling remote control from a smartphone, with instant uploading to the cloud and other features.
The Tascam DR-22WL ($149, two track) and DR-44WL ($299, four track) are Wi-Fi enabled portable audio recorders with stereo condenser microphone and multiple audio tracks. The DR-44WL can record both the internal microphones and through external XLR inputs simultaneously for a four-track recording.
tascam_DR-44WLTascam Portable Recorders WiFi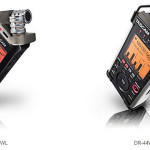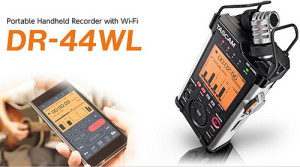 Filed under: Audio recorders, Electronics, Iphone 3G 4G 4GS Hardware & Accessories, Video Post Production Solutions