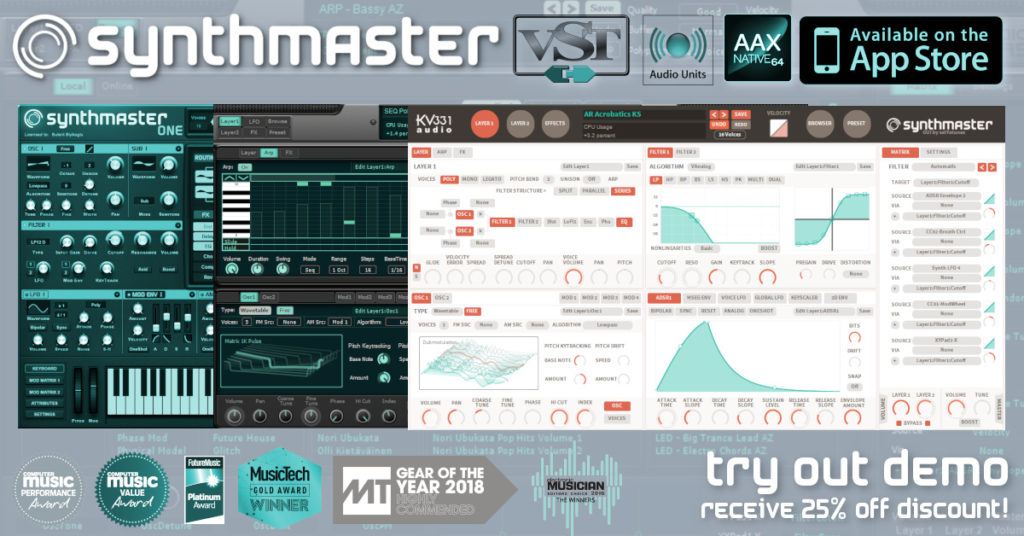 Synthmaster is a excellently engineered synthesizer music creation software program, for creating your own music compositions, video games, or even background for a major motion picture. At the 2019 NAMM convention in Anaheim, California I had the opportunity to meet Bulent Biyikoglu the creator of Synthmaster and to experience first hand some of its features. There is a Deluxe version, Standard version, Academic Version, and an Apple iOS version for iPhones and iPads, and even a free version.
Synthmaster Deluxe has a sample playback and 8 modulation sources and waveforms. With Synthmaster DELUXE you get 31 expansions and each expansion has 53 sets to create your own original sounds. There is also 1750 presets. Synthemaster Deluxe version has several features the introductory version does not and is well worth the price, MSRP is $379.00.
Who uses Synthmaster?
Composers and anyone that wants an easy to use complex synthesizer based on Apple OS, Apple iOs or Windows OS operating systems. According to Bulent the composer of the new Tom Cruise, Mission Impossible movie purchased the deluxe version to create the sound track.
The introductory version OF Synthmaster starts at only $129.00, is a good starting point and a stripped down version of Synthmaster DELUXE, all you need is midi keyboard and a computer running Apple OSX 10.7 and above or Microsoft Windows 7 and above. I jumped right in and was able to start creating happy noise right away, Synthmaster is very intuitive. You don't need to be a studio composer you can also start off with the Apple iOs software package Bulent's brother created. Have fun and get Synthesizing with Synthmaster
Here are the Basic system requirements.
CPU: 2.0 Ghz, Intel SSE3 instruction set
RAM: 2 GB
Windows: Windows 7 and above
MacOSX: MacOSX 10.7 and above
For AAX (32bit): ProTools 10.3.7 and above
For AAX (64bit): ProTools 11 and above
| | |
| --- | --- |
| Synthmaster Player for iOS | |
Synthmaster Player for iOS is the mobile player version of Synthmaster. It is targeted towards users who prefer to use presets rather
than designing their own sounds during music production. Although it is a preset based player, users can edit the following parameters:
8 easy parameters assigned by the sound designer 2 XY Pads assigned by the sound designer Effect bypass states and send amounts Layer bypass states and volumes Master volume, polyphony

The free app comes with 100 factory presets. When users complete registration by entering their names and email addresses they receive another 100 factory presets as a bonus. After completing registration, users can upgrade to the Pro version of the app by
purchasing the "Factory Presets" bank via In-App-Purchase (IAP) for $9.99with the Pro Upgrade all of the 800 factory presets are loaded and also the following features are unlocked:

Users can save the changes they have made to the presets Users can purchase additional preset banks via In-App-Purchase (IAP) Existing SynthMaster users can download their previously purchased Synthmasterpreset banks inside the app, so that they don't have to purchase them again Existing SynthMaster users can export their own presets in Synthmaster v2.7 and import them into Synthmaster Player for iOS using iTunes.
Built-in Keyboard
The built-in 2 octave keyboard with pitch and modulation wheels lets users play notes without having to connect an external MIDI controller to their iOS. With its Scale functionality, it shows the users the notes on the scale, and with its Chord functionality the user can play a certain chord by pressing a single note.
Midi Settings
SynthMaster Player for iOS supports CoreMIDI and also virtual MIDI. It acts as a virtual MIDI destination for other DAW apps. Midi input device, midi input channel, and receive midi beat clock settings can be adjusted from the MIDI Settings window.
InterApp Audio
SynthMaster Player for iOS acts as an source/instrument in InterApp Audio. We demonstrate in our user manual how to connect it to InterApp enabled DAW apps.
AudioBus
SynthMaster Player for iOS acts as a source/instrument in AudioBus, with state saving enabled. We demonstrate in our user manual how to connect it to AudioBus enabled DAW apps.
System Requirements
Minimum Operating System Supported: iOS 8.0
Minimum Hardware Supported: iPad 3rd Generation, iPhone 5
Recommended Hardware: iPad Air and above, iPhone 6 and above
About: Bulent Biyikoglu
Bülent has been writing software since the days of the Spectrum 48k. His first experience in writing music related software was programming a C64 to synthesize sounds with its SID chip. After he realized that he can't play the piano well enough , he concentrated on learning the fundamentals of audio DSP while studying Electrical and Electronics Engineering at METU. Throughout college he wrote realtime audio DSP applications in C++, and right after graduation he started working as a software engineer at PG Music in Victoria, BC, Canada. A year later, he moved to Silicon Valley, accepting a software engineer position with Digidesign (now Avid). In 2004 he founded KV331 Audio, and since then he's been working towards making SynthMaster a worldwide recognized software synthesizer brand. (This information curtesy of synthmaster. https://www.kv331audio.com)

Filed under: Apple Software, Music Products, NAMM News, Software, Video Post Production Solutions