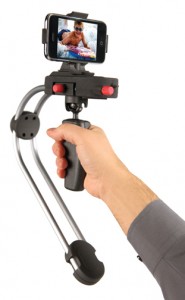 FOR APPLE® IPHONE® 3GS, 4, FLIP MINOHD™ or IPOD® TOUCH
___________
Hauppauge, NY – June 18, 2010, — The Tiffen Company, award winning manufacturer of still image and video accessories, announced fourth quarter availability, of the Steadicam Smoothee, the new "easy to use right out of the box" camera stabilizer. The Smoothee, comes with a camera mount, and will sell at retail for under $200. The Smoothee can be used with the Apple iPhone 3GS, 4, the Flip MinoHD video camera or the iPod Touch (Gen 4), with additional models to follow.
The Smoothee, developed by Steadicam, the leader in camera , now allows these smart phone and Flip video cameraowners to capture incredible video without the shakes normally associated with hand-held video shot on the go.
"The Smoothee received outstanding reviews at the Winter Consumer Electronics Show this past January" said Hilary Araujo, vice president marketing for Tiffen. "We're very proud of this incredible new Steadicam and excited that Tiffen will be able to make it available for consumers, so that anyone can take great videos the very first time," continued Araujo.
The lightweight, agile, and easy to use Steadicam Smoothee features an innovative, patented design built around a durable mono-frame metal structure that requires no complicated instructions to begin using. With its "go anywhere" compact dimensions, The Steadicam Smoothee is approximately 8"W x 14.5" H x 2.5" D (20.3 x 36.8 x 6.4cm) in operating configuration. Each of the individual patented quick release removable camera mounts can also serve as a tabletop stand or can be mounted to any tripod with a standard ¼ x20" camera mount. The comfortable ergonomic Smoothee hand-grip folds up securely when not in use. Also included with the Steadicam Smoothee is an easy to follow instruction sheet and carrying strap.