Two shows for the price of one!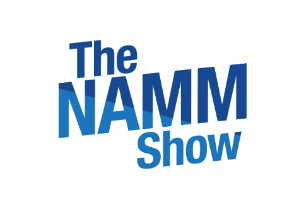 The National Association of Music Merchants show (NAMM) is being held this summer June 3-5, 2022 at the Anaheim Convention Center in sunny California. Normally the winter NAMM show is scheduled in January with the summer show in Nashville. These bi-coastal conventions are being combined all together in one big event in Anaheim. Ought to be a really big show! There hasn't been a NAMM show since January 2020. No thanks to that nasty little virus. As always NAMM has some great music products and events to share.
Here is a brief lineup of the shows major events:

THE 2022 NAMM SHOW & MEDIA PREVIEW DAY RETURNS TO ANAHEIM, CA JUNE 2 – 5, 2022
Thousands of Music, Sound/Pro Audio, Entertainment Technology and
Education Sector Releases & Live Demos, Performances – For members of the Media only!
THE NAMM SHOW – Fri June 3 – Sun June 5 – Returns in-person to unite the music, sound, and entertainment technologies industries. More than 3,500 brands will be on display. Gather news and trends from the show floor; interview CEOs and business leaders; meet artists and tastemakers –
10-6:00PM (Fri-Sat); 10-5:00PM (Sunday), Anaheim Convention Center
Thursday, June 2
OFFICIAL NAMM Media Preview Day – A first-look media reception from NAMM (The National Association of Music Merchants), and a chance for media to demo new releases from top brands, engage in one-on-one interviews, and get a jump start on coverage. Top brands include Adam Hall Group, Shure, Yamaha and more.
The Top 100 Awards – Celebrating twelve years of honoring retailers worldwide who demonstrate exceptional commitment to their stores, neighborhoods, and customers and share in a vision of creating a more musical world through their local communities – 5:30-8:30PM, Hilton Anaheim, Pacifc Ballroom
The She Rocks Awards – Honoring women in the music and audio industries and featuring 6-time Grammy award-winner Dionne Warwick, along with Meredith Brooks, Carmen Vandenberg, Yvette Young, Covet, and more – 6:30PM, The Ranch, 1025 E Ball Rd #101A, Anaheim.
Friday, June 3
The 20th Annual PLSN/FOH Parnelli Awards – The highest award honoring live event professionals, hosted by "Jammin" Jay Lamont" – 6:00PM, Hilton Anaheim, Pacific Ballroom.
Saturday, June 4
37th Annual NAMM TEC Awards – Celebrating the best in professional sound and audio production and hosted by Fred Armisen. Carol Kaye to receive the Les Paul Innovation Award along with Top hitmaker Peter Asher who will be inducted to the NAMM TEC Hall of Fame – 5:30PM, Hilton Anaheim, Pacific Ballroom.
All-Industry Drum Circle – Media and attendees are invited to make music with Remo., Inc. percussion instruments – 5:00PM, The Palm Court (in front of the convention center on Convention Way), Anaheim Convention Center
Sunday, June 5
The Uke Circle – Media and attendees are invited to play ukuleles provided by Kala Brand Music; the event will be facilitated by Ukulenny – 11:00AM, The Palm Court (in front of the convention center on Convention Way), Anaheim Convention Center
Throughout the Show
Future-Focused Ideas & Panels – Workshops, panels, and professional development opportunities, including – Finally! Play Together—From Anywhere, With Ultra-Low Latency, with RealTime Audio's CEO, Taylor Robinson, and musician/producer Brian Hardgroove; How Musicians Should Use TikTok with Ari Herstand; Releasing New Music in 2022: The Landscape for the DIY Artist; Birth of a Record: Stevie Wonder's "Music of My Mind;" Loud: A Conversation with Tana Douglas, the First Woman Roadie; Guitar Technology for the House of Worship, and Friday's Pensado's Place Residency at The NAMM Show, ft. 24kGoldn and Nick Mac, many others. Access all educational sessions here – https://www.namm.org/thenammshow/2022/schedule
Performances Including
Live music from 150 performers across seven stages – Yamaha's Friday "Night of Worship" ft. Fred Hammond and Saddleback Worship Group and Saturday's "All-Star Concert on the Grand" ft. Kandace Springs, Preservation Hall Jazz Band, and Tank and the Tangas; Composer Eric Whitacre conducting an in-person choir and live virtual choir event for a rendition of "Sing Gently" at Saturday's Grand Rally for Music Education; and performances at the She Rocks Awards from ACM nominee Tenille Arts and multi-platinum artist Meredith Brooks; a Saturday performance by The Jam Galaxy Band, featuring the first ever live performance of Desdemona, a humanoid robot, and little sister to the famous Sophia, from Hanson Robotics.
Meet the Greatest Rock Photographers and Experience the Life of Rock Legend Les Paul in Images
Les Paul Thru the Lens – An exclusive traveling gallery of photos highlighting the life and career of music industry icon, inventor, and musician Les Paul, presented by the Les Paul Foundation. Member Center, Hall A; Photographer Henry Diltz – Offering a master class on photography. Diltz is also a musician and has photographed many of rock's most iconic artists including The Doors, Crosby, Stills, Nash & Young, Jimi Hendrix, Billy Joel, Garth Brooks, and others. Friday, June 3, 10:00AM Room 204A; Photographer Neal Preston – Signing his newest book Queen: The Neal Preston Photographs and speaking about his experiences photographing Queen over two decades. See schedule for times/locations – https://www.namm.org/thenammshow/2022/schedule
Filed under: Music Products, Musical Instrument, NAMM News, NAMM Performances