The Locust Bluetooth Selfie is by far the best quality selfie on the market.
The blutooth chip on this Selfie works equally well with the Apple iPhone, Samsung Galaxy and
my Nexus 5. If you are down on Balboa Island California check out this smartly packaged Selfie at Hershey's Market 200 Marine Ave, Newport Beach, CA 92662
(949) 673-0330 MSRP is $19.95. There are no extra screw on Plastic parts or wires on this compact self Bluetooth selfie. You can also order online next day delivery at Milagro Mac, ipodexpress.com, Milagromac.com Machp.com. For Phone orders or Dealer inquiries call 949-673-7238, or email support@machp.com.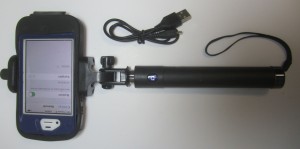 LOCUST Series Selfie
Battery capacity: 60MA
Standby time: 3 days
Working time: 20H
Charging voltage: 5V
Charging times: > 300
Total Weight: 148 Gramd
Length: 80CM (7inches)
Material: stainless steel
Packing dimension: 240-80x40MM
Filed under: Apple Computer Hardware, Iphone 3G 4G 4GS Hardware & Accessories, The Selfie Stick