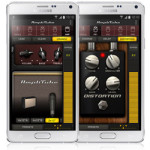 IK Multimedia has been supporting Apple iPods, iPhones and iPads with both their standard headphone jack version and their IRIG HD version for several years. I personally still use the first IRIG version on my acoustic electric ukulele and Apple iPad mini for performances around town, works great. Now IK Multimedia offers IRIG HD-A for SAMSUNG, Musicians with Samsung devices running Samsung Professional Audio, like the Samsung Galaxy Note 4, Galaxy Note Edge can connect their guitar or bass to their Android™ device and play the sounds of the most sought after amplifiers and effects from their smartphone. SAMSUNG has Now conquered the latency issues that has made the Apple ios products the one and only choice for Amplitude and IRIG Products.
How did SAMSUNG do it? If Google's Programmers knew they would be coding it on their Google NEXUS products. I sure wish Google did know then i would not have to put up with the first 2 or 3 minutes of screeching & distortion i hear when I plug my IK Multimedia IRIG into my GOOGLE NEXUS. Garfitt Corp's Guitar AMP is the company that is getting closer to bridging the gap between GOOGLE'S latency issues and the the IRIG. Are there any other devices similar to the IRIG that I
can plug my acoustic guitar or in my case my Ukulele into my NEXUS? If there are please let me know.
Garfitt Corp's Guitar AMP also referred to as IR, has nothing to do with IK multimedia, and Guitar AMP has made
that very clear on their website and when you download the App.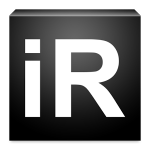 If you would like to experiment with Guitar Amp on your Nexus, download Guitar AMP with the IR logo from the Google Play store. IK MULTIMEDIA said they would have a Google Nexus IRIG HD product out by March. Last week when I called IK MULTIMEDIA they told me no IRIG HD products available for the Google Nexus. So sad now I will have to connect my IRIG to my iPad. Maybe Next year Google. Where did they ever get that name NEXUS? Didn't Steve Jobs have a company called NexT computers?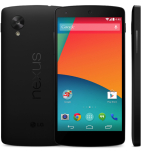 IRIG HD-A for SAMSUNG
Pricing and availability:
The new AmpliTube app for Android/Samsung Professional Audio is available through the Samsung Apps store for only $19.99/€17.99. Free and LE versions are also available. The AmpliTube LE version (a $9.99/€7.99 value) is complementary for Samsung Galaxy Note 4 and Galaxy Note Edge users as a part of the Galaxy Gifts apps program.
The new iRig HD-A digital guitar interface is now available through the IK Online Store and select music and consumer electronics retailers for $99.99/€79.99. The iRig guitar interface adapter is available for $39.99/€29.99 and the iRig Stomp guitar pedal interface is available for $69.99/€44.99 (excluding taxes).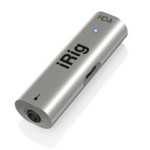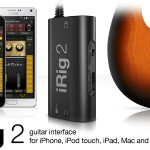 Filed under: Apple Computer Hardware, Apple Software, Iphone 3G 4G 4GS Hardware & Accessories, Music Products, Software