While i was recovering music files from Brian Welch's late 2009 17″ Macbook pro, the ex member of KORN, strums a few chords on my Paulele Soprano Bamboo Ukulele. Brian's internal hard drive was indeed, Paralyzed, corrupted and on the verge of dying. I quickly ran apple's utility program could not fix the issue, nor could Disk Warrior. I did manage to recover the music files Brian so desperately needed and transfer his recordings to another external 230GB hard drive for latter editing. Brian thanked me for Milagro Mac's music recovery service.
thank you mucho, Brian Welch.
Don't forget to download Brian's Paralyzed – Single Brian "Head" Welch on itunes.
and vist his website for further updates.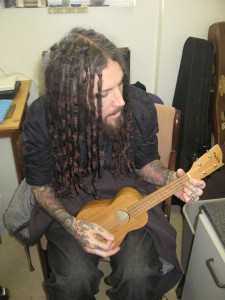 http://brianheadwelch.net/
Filed under: Apple Software, Music Products, Ukuleles Tagged: | Rock Stars