PRESS RELEASE: Embargo until January 5, 2015 (8am PST / 11am EST)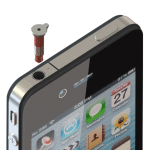 HYPER Launches 2 New iPin Laser Pointer And Wireless Presenter Products Via Kickstarter at Consumer Electronic Show 2015
New iPin Connects Via Micro USB To Turn Any Android Device Into A Laser Pointer And Wireless Presenter
iPin BTtogo Bluetooth USB Dongle Allows Any iOS/Android Device To Control Presentations On Any Public Computer With Zero Setup
Monday, January 5th, 2015 LAS VEGAS, NEVADA: Sanho Corporation (CES 2015 LVCC North Hall iLounge Booth 5512) – the company behind the HYPER line of mobile accessories, in collaboration with Conary Enterprise, an opto-semiconductor company announces the launch of its Kickstarter campaign for 2 new iPin Laser Pointer and Wireless Presenter products to follow up on the award winning original iPin for iPhone.
Original iPin Laser Presenter for iOS
The original iPin is the world's smallest laser pointer attachment for the iPhone, iPad and iPod touch. As the name suggest, it is as tiny as a pin which disappears completely into the audio jack of the iOS device with almost no protruding parts, turning the iPhone, iPad and iPod touch into a laser pointer and wireless presenter.
New iPin Laser Presenter for Android
The new iPin for Android connects to the micro USB port of compatible Android devices and just like the original iPin for iOS, it comes with a free app that can be downloaded from the Google Play store that turns the iPin connected Android device into a powerful laser pointer and wireless presenter. Through the free iPin app and WiFi connection, users can transform their Android devices into a fully featured presentation tool with intuitive gesture based controls to change presentation slides and move the mouse pointer on any Mac and PC computer.
New BTtogo Bluetooth USB Dongle
The new BTtogo adds another level of convenience to the iPin. Traveling to another office and presenting at another site may mean that WiFi connections are not guaranteed or firewalls may be in place. BTtogo solves the issue by allowing users to confidently connect their iPin enabled iOS or Android device to any computer for a reliable presentation, regardless of the WiFi or firewall settings. BTtogo features a USB connector that plugs into any Mac or PC computer and connects to the iPin enabled iOS or Android device via bluetooth with no host software required and almost zero setup. Users can store their presentation files on a micro SD memory card inserted into BTtogo to run presentations on any public computer, even with firewalls present.
HYPER is seeking $50,000 via Kickstarter to launch the 2 new iPin products. Funding begins January 5, 2015 at 8am PST/11am EST and ends on February 9, 2015. Upon successful funding, HYPER aims to ship the new iPin products in the same month of February 2015. This is HYPER's 4th Kickstarter project after the successful CloudFTP, iStick and Pearl which combined raised over $1.4 million.
Product Specifications
iPin for iPhone, iPad, iPod touch
Length: 16mm (standard version), 17.8mm (extended version, designed for iOS devices with case)
Diameter: 3.5mm (narrowest end) ~ 7.6mm (widest end)
Laser Wavelength: 635nm
Laser Power: <1 mW (Class II) Supported iOS Devices: iPhone 3GS/4/4S/5/5C/5S/6, iPod touch 4/5, iPad, iPad mini Supported Systems: Mac OS X 10.6 - 10.10 (Yosemite), Windows XP/Vista/7/8 iPin for Android Dimensions: 47.2 x 14.7 x 10mm Laser Wavelength: 650nm Laser Power: <1 mW (Class II) Supported Android Devices: Android devices with micro USB OTG (On-The-Go) specification Supported Systems: Mac OS X 10.6 - 10.10 (Yosemite), Windows XP/Vista/7/8 BTtogo Dimensions: 70.6 x 30.2 x 12mm Bluetooth Version: Bluetooth 4.0 (BLE mode) Bluetooth RF Frequency: 2.40-248 GHz Memory Card Reader: microSD Supported Systems: iPhone 4S or later, Android 4.3 or later with Bluetooth 4.0, Mac OS X, Windows XP/Vista/7/8 Pricing and Availability iPin for iPhone retails for $49.95 and is currently available. Both iPin for Android and BTtogo will retail for $34.95 each and will ship in February, 2015. Special pricing will be available for Kickstarter backers. Kickstarter Project Page (will link to preview site prior to actual launch on January 5, 8am PST): https://www.kickstarter.com/projects/hypershop/1014125729?token=56e5fb52 About Conary Enterprise Conary Enterprise was founded in 1976 and has been serving worldwide customers in the Opto-semiconductor technology industry for over 35 years. With its own brand, iPin, Conary is taking a step further in developing innovative products with laser applications for the mobile accessory market. About Sanho Corporation Sanho Corporation designs, manufactures and markets IT accessories with a focus on Apple accessories, portable power and wireless storage. Sanho is committed to developing cutting edge products with a dedicated focus on performance, quality, value and service, with a sales and marketing office in the U.S. in Silicon Valley, California, a production facility near Shanghai, China, and R&D teams in both countries. HYPER is a fashionable line of mobile accessories – manufactured by Sanho Corporation – designed to increase functionality in every day life. Hyper products include: HyperJuice – Portable power products for Apple MacBook, iOS, Android and other mobile devices HyperDrive – Portable digital data storage products for Apple devices, digital cameras, and memory cards HyperShield – Cases and stylus pens for Apple devices HyperThin – World's thinnest HDMI cables
Filed under: Apple Computer Hardware, Iphone 3G 4G 4GS Hardware & Accessories