Introduced at NAMM 2018 is the Romero Creations ST Concert Ukulele. Similar to the special Tiny Tenor design. However, instead of being the length of a concert ukulele, the length of the instrument is soprano sized, making it even smaller without compromising the body size of a tenor body. The playable portion from the saddle to the nut is Concert size.
Soprano + Tenor + Concert, the ST Concert Ukulele.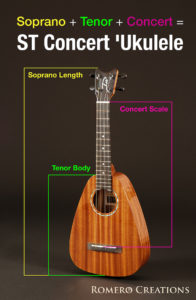 Last year I saw these instruments, this year I purchased a Tiny Tenor KOA which is made of solid Koa with an ebony fingerboard and beautiful abalone inlay. The ebony fingerboard gives this unique ukulele the feel of a classical guitar. The intonation is perfect, and stays in tune and is strung with Pepe Romero Strings. The special Romero Creations G-string is a low g is steel wound on nylon, like a classical guitar string. This is absolutely the best ukulele I have ever played.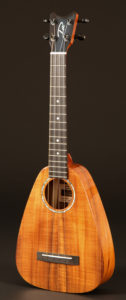 I like to play rock or folk rock and some originals that works quite nicely on my Tiny Tenor without any of the twanging sounds most ukuleles have. The Tiny Tenor is an original design created by
luthier Pepe Romero Jr., and Daniel Ho 6X Grammy Winner. While the Tiny Tenor body is a full sized tenor box, the length of the ukulele is Concert Ukulele size. This makes the Tiny Tenor Ukulele easier to carry than a full Tenor.
People always tell me the ukulele looks like a mandolin, well kind of, more unique. The narrow shape of the body by the base of the fingerboard makes it easier to play toward the sound hole. It is also easier to hold then a standard ukulele. Check out the photos and you will see what I mean. The larger sound hole is also closer to the bottom of the fingerboard. Whatever Pepe does with the internal bracing makes this instrument's sound come alive. The saddle and nut are perfectly compensated and the action setup just right straight from the factory!
Romero Creations also makes a Grand Tenor with the shape of a classical guitar.
The Grand Tenor Premium Koa MSRP is $899.00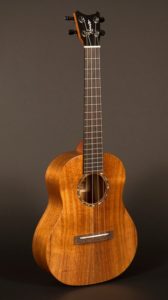 There has been alot of thought into the creation of these very fine instruments. If you have a chance
to play one you will want to own me. The MSRP on the St Concert Premium Koa and the Tiny Tenor KOA is $799.00. There is also a more economical ST Concert and Tiny Tenor with a solid spruce top and laminate mahogany sides. $299.00 MSRP. His hard soft shell cases are a perfect fit. The body size of the solid spruce is also a little wider, giving this ukulele its own unique sound. This is a fun instrument a great place to start, available for $269.00 at zukulele.com
Yes Zukulele.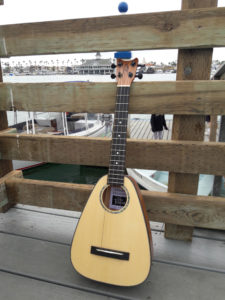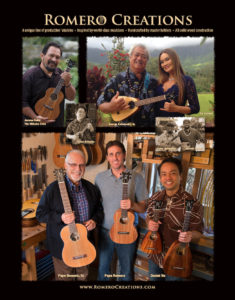 Visit Authorized Romero Creations dealer online at zukulele.com, for live people call 949-673-7238.